Level 2: "Let's go faster!" - get a 3D printed scale model, and your name on bike!
$

250.00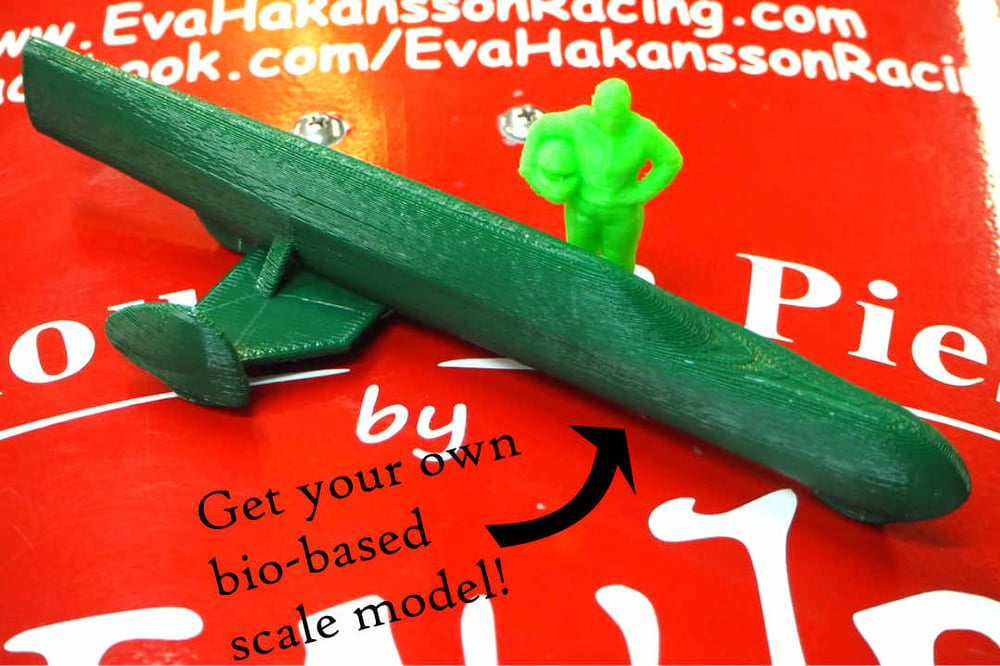 Want to be a part of history?
This is your chance to have YOUR name on the KillaJoule and Green Envy streamliner when we make record attempts at the salt flats in Australia! You will also get your own 3D printed scale model of the KillaJoule and Eva or the Green Envy and Eva!
Don't you wish that your name was on the Spirit of St. Louis when Charles Lindbergh crossed the Atlantic and forever earned his place in the history books? Don't miss this opportunity to have your name on another vehicle that already made history, and will make history again!
In addition to help us make history, these are the awesome things you get at this supporter level:

- Get your name on the Green Envy and the KillaJoule for 2019 and 2020! (Approximately 1/2" (12 mm) high font)
- Get a postcard signed by rider/builder Eva Hakansson. Free shipping to anywhere in the world.
- Your name will be listed on the Partners & Supporters page on ScienceEnvy.com.
- A 3D printed scale model of the Green Envy or the KillaJoule (your choice) and rider/builder Eva Hakansson. The scale model is 6 inches (~150 mm) long, and is designed and printed by Eva. It is made from corn-based plastics and is compostable if you ever would get tired of it.
Free shipping to anywhere in the world.
The names on the KillaJoule are placed on the sidecar (shown in the photo). The names on the Green Envy will be placed in a similar fashion.
The models are made to order, so please allow up to 4 weeks for delivery. The color may vary slightly depending on the availability of printing filament.
-----------------
If the shipping/billing address is in Colorado, USA, sales tax will automatically be added (see the FAQ page).
Having trouble with the order? See the FAQ page for an alternative solution, please!
Share